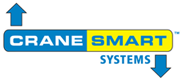 Custom Applications
Cranesmart Systems has provided many custom units for unique applications. We strive to meet any crane safety challenge put forth by our customers.
Custom systems are engineered by trained professionals to meet the needs and specifications of the customer. Each custom application is quoted on an individual basis.
Contact Cranesmart Systems today for a quote on a custom application for your needs.